Ammi Rap Lyrics is A Latest Rap Song 2022 from Hustle 2.0 Which is Sung by GD 47 and the Lyrics of Main Kon Rap Is Also Given by GD 47.
Ammi Rap Lyrics Hindi,English – GD 47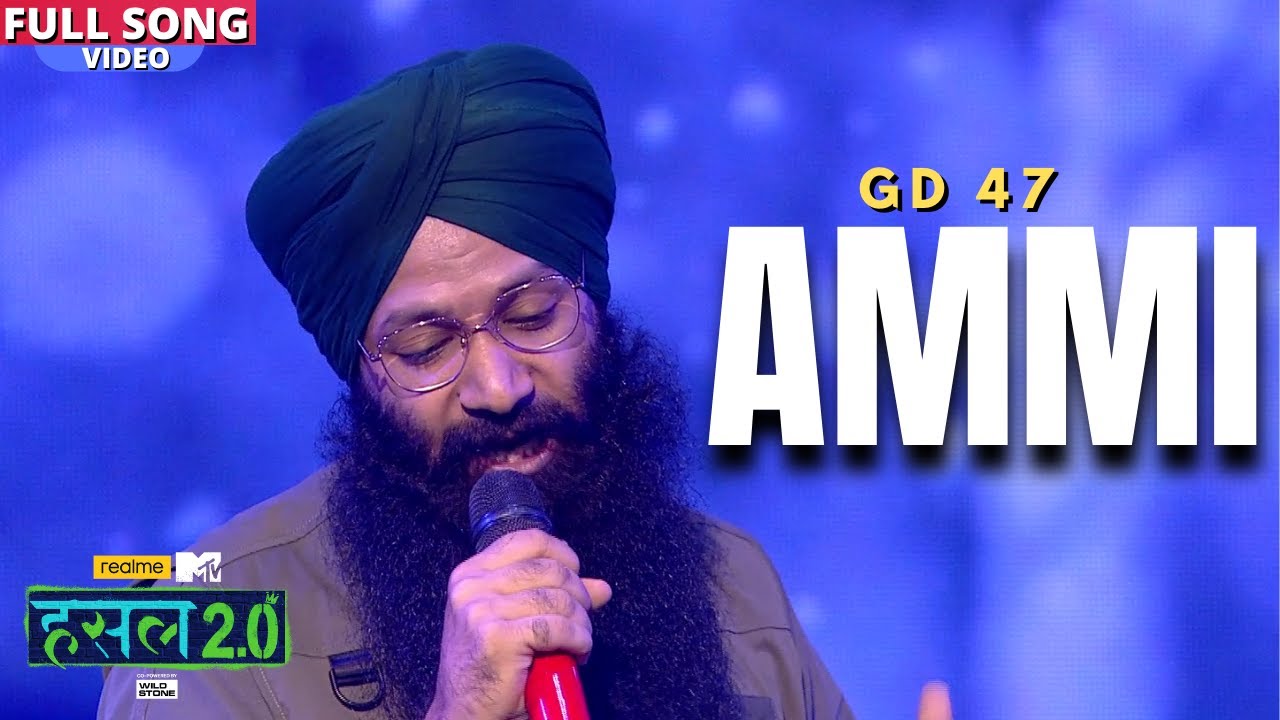 | | |
| --- | --- |
| Singer | GD 47 |
| Song Writer | GD 47 |
AADHA TUNE DIYA AADHA PAPA NE WAHI AB DUNIYA KO MAIN GYAAN DETA HOON,
TU APNE BETE KO JEET-TA DEKHE BINA MAR NA JAAYE KAHIN, ISLIYE ROZ APNI JAAN DETA HOON,
WAISE TOH KHO CHUKA HOON VISHWAS BHAGWAN PE, PAR TU KEHTI HAIN TOH MAA MAIN MAAN LETA HOON, (MAA)
SHAYAD MUJHE PYAAR KARNA NAHI AATA, YA BHOOL GAYA HOON, YA SHAYAD INSAAN AISA HOON ABB,
SHAYAD, HOON MAIN GAYAB APNE KAL MEIN
CHHAL THHE JO PAL SHAYAD UNKE DALDAL MEIN
MERA MANN SE MANN NAHI DUNIYA MEIN JEENE KA
TERI TASVEER DEKH BHAR AATI HAIN MERI PALKEIN
KUCH BAATEIN TERE KAL KI, JOH TUNE THI BATAYI MUJHE, MERE ZEHEN SE NAHI NIKALTI,
CHAHTA TOH TERA BHALA HOON OONCHI AWAAZ MEIN TUJHE BOLA KAYIN BAAR, MAAF KARNA MERI GALTI
SACH TAN EH HAIN, AJJ VI HANERE TON MAIN DARDA AA,
DOOR HOWE TAN JEE GHABRAWE, RAKH LAI KOL MAA,
BADLAA'N AGGE JOH JAHAN OH JANNAT TU AE MAA,
KINNE CHIR TON DIN NI CHADEYA, RAKH LAI KOL MAA
TERI AANKHON MEIN THA DEKHA MAINE KAL RAAT JAB TERI SAANSEIN UKHAD RAHI
MERE HAATHON MAIN THA HAATH TERA MAA, AUR TERI NABZ UDHAR NAHI THI,
MAIN ABB SUDHAR JAUNGA MAA, RAB WAQT TU UDHAAR DEDE BAS,
BEBAS ITNA THA KI KARTA KYA SAMAJH NAHI AA RAHA, THA,
ANDAR THA TERA BACHCHA MAA
BAHAR SE MAIN MARD BANTA GAYA,
THAM SA GAYA,
KYA YEH HEE HAI USKI RAZA?
ISKI MAA KO SAZZA DEDO ISKI JAGAH? HAAN?
KISKI TARAH BANU MAIN?
KAUNSE RASTE PE MAIN CHALUN?
BIN TERE KAISE PALUN MAIN
ALVIDA BIRO MERI, TUJHE KAISE KAHUN MAIN? HAAN?
SAANS MEIN SAANS AAYI, JAB TUNE SAANS LI,
WAAPIS, MAIN HAANSIL KARLUNGA HAR MUKAM TERE CHARNO MEIN LAAKE RAKHUNGA HAR DUKAAN KI SABSE MEHENGI WOH CHEEZ
BAS SAATH DENA TU
SACH TAN EH HAIN, AJJ VI HANERE TON MAIN DARDA AA,
DOOR HOWE TAN JEE GHABRAWE, RAKH LAI KOL MAA,
BADLAA'N AGGE JOH JAHAN OH JANNAT TU AE MAA,
KINNE CHIR TON DIN NI CHADEYA, RAKH LAI KOL MAA
GHAR SE BAHAR TAHLA? TOH JAANA
JHANJHAT BHI EK CHEEZ HAI
MAA NE DIYA SAB,
KYA KAHA?
MANNAT BHI EK CHEEZ HAI,
MERI MAA KI CHHANV MEIN GUZRI HAI KAYIN DOPAHEREIN MERI,
YEH KARTE HAIN GUMAAN…
KI JANNAT BHI EK CHEEZ HAI