Sho Sha Rap Lyrics is A Latest Rap Song 2022 from Hustle 2.0 Which is Sung by MC Headshot and the Lyrics of Sho Sha Rap Is Also Given by MC Headshot.
Sho Sha Rap Lyrics Hindi,English – MC Headshot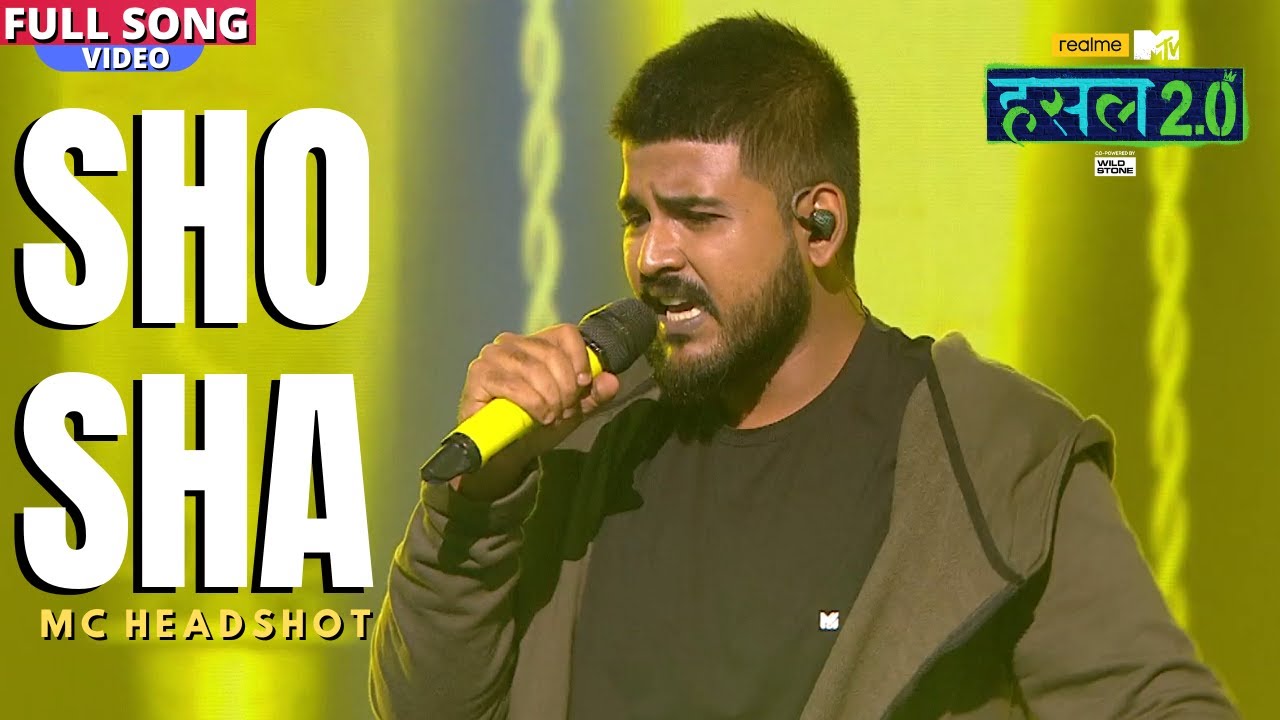 | | |
| --- | --- |
| Singer | MC Headshot |
| Song Writer | MC Headshot |
BATTLEGROUND MEIN TU MERA TARGET AUR MERE HAATH MEIN GROZA
SWAGGER BANTE SKILL MEIN NA JAMTE BEAT PE THOOKE YEH DHOKHA
RATHER BANDE JO KARTE HUSTLE KARTE KATAL BEAT PE SHLOKA
AAJKAL RASCAL MASTER BANTA
KYUNKI RAPPER KAR RAHE
SHOW SHA
SHOW (3)
EENA MEENA DEEKA SUNA GAANA MAINE SEEKHA
BHOOKHA BACHPAN SE
TABHI TOH KHANA MAINE SEEKHA
CHOOKA NISHANA MERA NAHI
TABHI HAARA MAINE JEETA
MAA NE BOLA THHA TABHI LAGAYA
KALA MAINE TEEKA
MUJHE INHONE KAHA THHA
LAGE GAANA MERA PHEEKA
TABHI TOH MAIN NI SUNATA
KABHI GAANA MERA FREE KA
ISEY RASAM BANAKE JAAKE KAATA MAINE FEETA
KHA LEE KASAM HAIN TABHI TOH BHARA GHARHA MERE JEE KA
AUR TUM TUM TUM TUM TUM
JINHE LAGTA MAIN WACK WACK WACK
UNHE SHOTS LAGE BOOM BOOM BOOM
MERE GAANE KAREIN BANG BANG BANG
AUR YEH CAM KAREIN ZOOM ZOOM ZOOM
YEH
AUR YEH CAM KARE ZOOM ZOOM ZOOM… ZOOM ZOOM ZOOM
LIKHA MAINE JO BHI WOH THHA
SADKO PE SEEKHA
KHARCHO PE JEETA
MAIN AUR MERA GANG SAARE
JANMO SE CHEETAH
BAAROODI YEH BEAT AUR MERE NAZMON MEIN GHEE THHA
MERE GAANE LAGE HOLY JAISEY PADHA MAINE GEETA
RAPPER LAGE POKÉMON SAARE KARE PIKA PIKA
SKY CHHOO KE BHI MAIN KARA JAAKE GRAVITY KA PEECHA
KHOLE GATE MERE BARS KYUNKI MELODY SAHI THHA
BOL BETE TERE GAANO MEIN YEH SANITY KABHI THHA
SICK SHIT
GAANE MERE KARE TUJHE VIKSHIT.
DHOOM MACHALE JAY DIXIT
KISI NE NAHI DEKHA MERA BIG SHIT
WHAT?
SICK SHIT
GAANE MERE KARE TUJHE VIKSIT.
DHOOM MACHALE JAY DIXIT
KISI NE NAHI KISI NE NAHI KISI NE NAHI KISI NE NAHI
BATTLEGROUND MEIN TU MERA TARGET AUR MERE HAATH MEIN GROZA
SWAGGER BANTE SKILL MEIN NA JAMTE BEAT PE THOOKE YEH DHOKHA
RATHER BANDE JO KARTE HUSTLE KARTE KATAL BEAT PE..
AAJKAL RASCAL MASTER BANTA
KYUNKI
RAPPER KAR RAHE SHOW SHA SHOW SHA SHOW SHA SHOW
KYUNKI
RAPPER KAR RAHE
SHOW SHA SHOW SHA SHOW SHA
KYUNKI
RAPPER KAR RAHE SHOW SHA SHOW SHA SHOW SHA SHOW
KYUNKI
RAPPER KAR RAHE SHOW SHA SHOW SHA SHOW SHA SHOW
KYUNKI, RAPPER KAR RAHE
KYUNKI, RAPPER KAR RAHE