Raja Raazi Rap Lyrics is A Latest Rap Song 2022 from Hustle 2.0 Which is Sung by QK and the Lyrics of Raja Raazi Rap Is Also Given by QK.
Raja Raazi Rap Lyrics Hindi,English – QK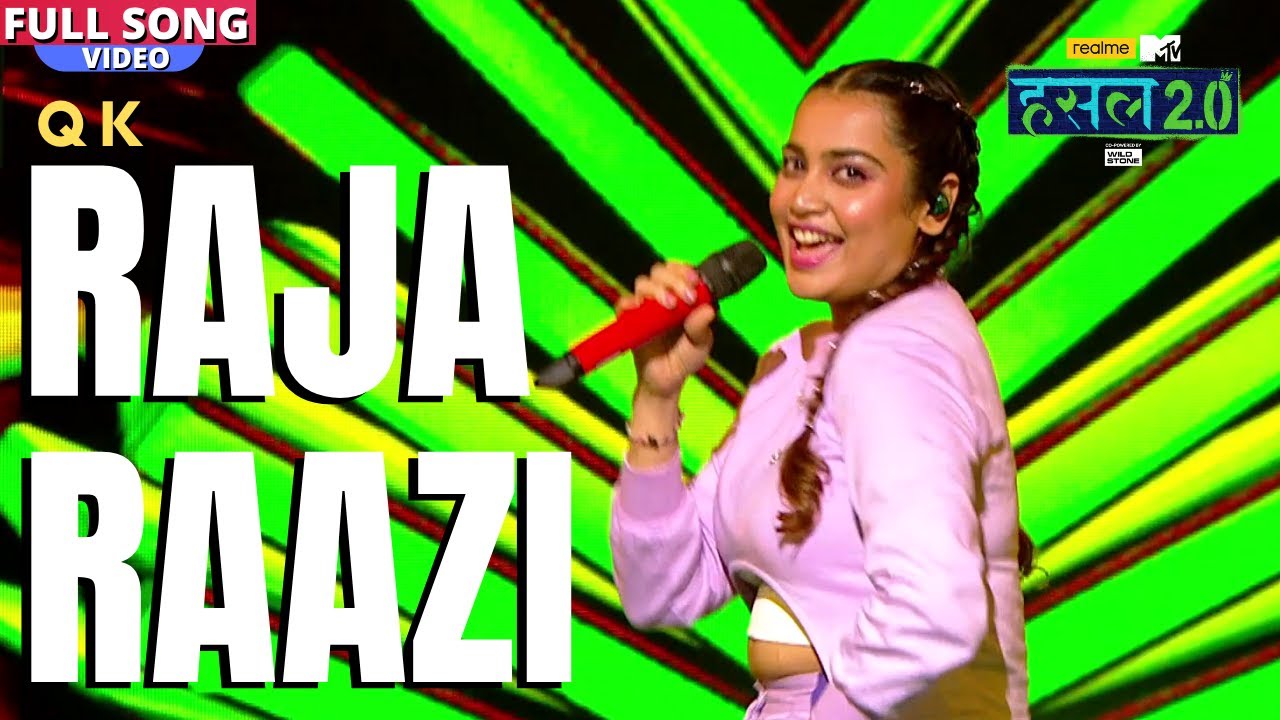 RAAZI RAAZI RA RA RAAZI RAAZI
RAAJA RAAZI RAAZI HAAN
RAJA RAAZI HAIN MERE LIYE
BAAZI BAAJI JAISE MAARI
MERE RAO NE MUJH PE
RAO NE MUJH PE
NAZRON SE NISHAANA TAANA
KHAANA-VAANA CHHOD USPE LIKHNE LAGI GAANA-VAANA
SHIRLA
PREMAT SHEERA MI GUD
GHAALIB MAIN
USPE LIKHOON BHI TOD
KYUKI
A- VO MAJOR HAIN
A MAJOR MEIN GAAYE,
B THODA TEEKHA HAIN,
C I'M SEEING HIM,
D KYA DIKHTA HAIN,
E KAISE BOLI MAIN,
F SE FATT RAHI THHI JI
PHIR BHI HOLI MEIN H SE
I LOVE YOU BOLI BOLI AGGA BAI
J SE JAADU HUA USPE BHI – KASA KAY K SE
LAHU MOOH LAGA L SE
MANWAA LAAGE M SE
NAAM USKA N SE
NAHI SAANGNAAR
OP ITNA KE QK BHI FAN TERI
R SE RAKH LE KALEJE MEIN KAISI DERI?
ST PE KHADA DHOOP MEIN TU MERE LIYE
UV RAYS TUJHE CANCER NA DE-DE KAHIN
WAAT LAAVLI W SE
EX (X) KI MERE TUNE
WHY WHY (Y) POOCH
SAARI GAME PALAT DI
Z SE ZOYA AKHTAR KI
GULLY BOY DEKH BOLA
BABY YOU TOH RAP NA
CAN YOU TEACH ME?
RAAZI RAAZI RAAZI HAAN
RAAJA RAAZI HAIN MERE LIYE
BAAZI BAAJI JAISE MAARI
MERE RAO NE MUJHPE
37 ROWS HOTE HAIN JO
12 KHADE HAIN 37 ROWS NE MERE LIYE
13 ROJILA 13 CHYA ROSES HAATHA MADHE
TERA DARR BHAGA TU JACK,
ROSE SIRF TERE LIYE
PACKS KYUN KI 6 TERE
9 BAJE MIL
MOVIE SAW DEKHENGE HUM
MERI SAU TUJHE MIL
CHAAHE 100 TUJHE MILE
MERI SAUTAN NAHI
TU AKELA LAGE KAAFI
CHAHIYE 100(SAU) TAN NAHI
RAGA RAAZI
RAAZI RAAZI RA RA RAAZI
RAAZI RAAZI RAAZI HAAN
RAAJA RAAZI HAIN MERE LIYE
BAAZI BAAJI JAISE MAARI
MERE RAO NE MUJHPE
RAAZI RAAZI RAAZI HAAN
RAAJA RAAZI HAIN MERE LIYE
BAAZI BAAJI JAISE MAARI
MERE RAO NE MUJHPE
RAAZI RAJA RAAZI
RAAZI RAJA RAAZI